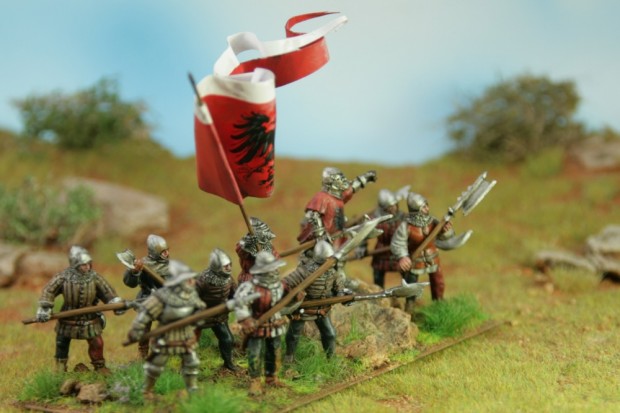 In our club we started recently to play Impetus, which has the very nice effect, that you can design diorama bases with your miniatures. I really love to collect that kind of army, interesting to know is, that there are guys out there, who play DBA with that kind of bases as well.
However I do like the Impetus gameplay so far, since I do enjoy games, if they are surprising at some point. If I am a little bit more experienced in Impetus, I will talk more on that. I always wanted to have a medieval army, and I urgently needed to have an excuse to paint the Perry´s Agincourt to Orleans Range.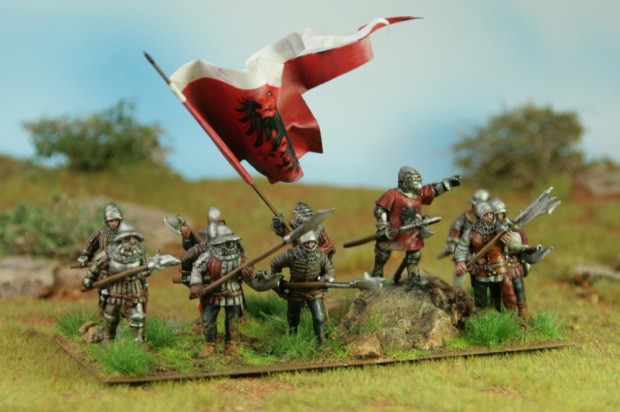 The conflict we want to depict is the "Kronberger Fehde" a local conflict between the City of Frankfurt and the knights of Kronberg, which had quite an impact to the decline of might of the free german cities. If you follow that article you will find a painting of the battle which took place in spring 1389.
The miniatures I used wear gambesons, chainmail and partly plate armour, since the germans still used a lot chainmail during that time. Lemming told me, that the german chainmail was of such a quality that it was still used in contrast to the french and english armies of that time.
I definetly was inspired by Antipaters excellent Impetus Bases, which also are shown in the Extra Impetus book, he made me look at that system. He supported me with detailed information on the armour and clothing of that time and his literature list was an excellent starting point. Thanks again for that, Antipater!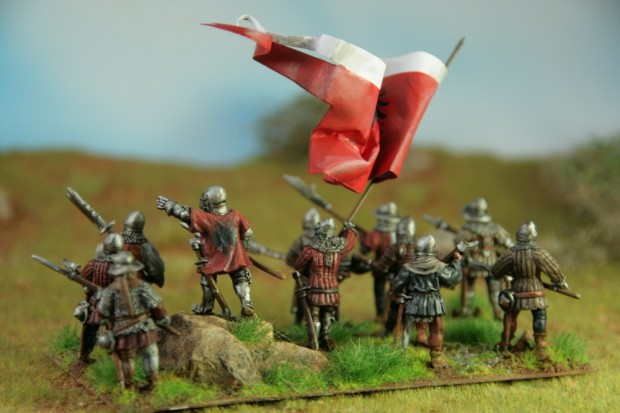 I modified some of the miniatures, since the Perrys depicted some of them as suffering from dysentery and therefore leaving their trousers down the heel, always prepared to shit. That was not exactly my expectation for the force of Frankfurt, although they failed in the battle due to loss of morale, as far as I know. El Comandante therefore will show some of them with their trowsers down.
The rock was made by Rusus, it´s made from Ceramofix and is an phantastic material, since it looks like real stone, but is absolutely flat on the bottom. I used a very similar painting technic as told by Elladan using airbrush paints to ink down a white rock.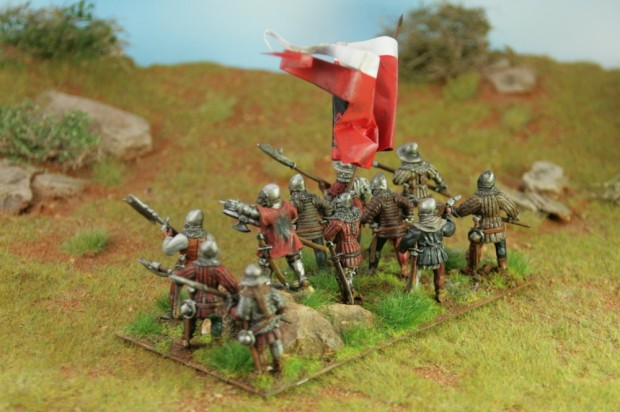 The banner was inspired by the medieval painting depicting the battle of Kronberg. It shows the Eagle of the Holy Roman Empire on red. I used an illustration from Wikipedia to create the banner. The printed paper was glued and afterwards I painted and highlighted the red. Since I want to use a lot of banners, I prefered to use the printed banner technic. For sure I will paint some Knights banners by hand, but that motive is very detailed.