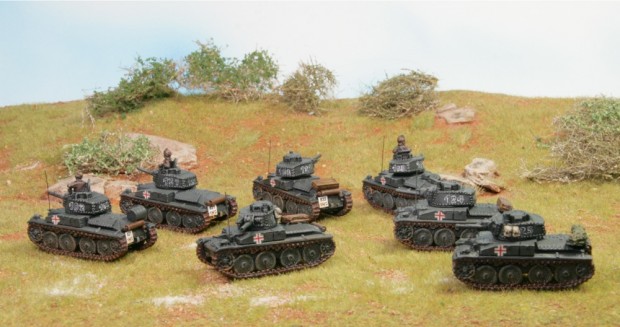 I managed to finish the core of my hungarian tank company. The core was not very hard in history. When the 1st armoured division fought at the river Don in 1942 their T-38G tanks were absolutely useless against most of the tanks the Sovjets threw at the hungarian controlled sector. The main gun was to weak to cope with T34 and for sure with KV1 tanks. The models are really tiny compared to other german Tanks, e.g. Panzer IV. However the history and the fact that this troop is underpowered against Russian standard troops are very interesting for me. I wanted to paint a force which ceased to exist in 1943 sindce the Russians simply wiped them out. In wargaming the aspect of modeling a unit the day before it was defeated is for me a very interestin one.
I decided to add just some stowage parts since I did not find a lot of stowage on historical pictures. Moreover the models are very small, so they would look somewhat overdone if they had to carry too much. As usual I used magnets for fixing the turrets. The antennas were made of goat hair from a brush. I printed the decals and the registration plates by myself and I was very pleased how it came out.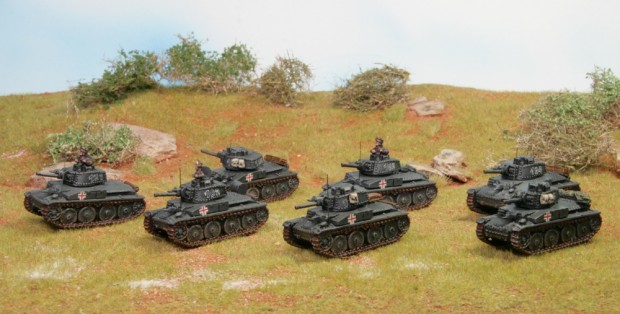 Panzer grey is not a favourite color for me. This time I started with a brown primer. After that I airbrushed german grey on the tanks, in a second step I highlighted with the airbrush and a lighter grey. After that I just sprayed water on the models and used Vallejo black Wash to bring the details back to visibility. A light dry brush with neutral grey was a good finish for the models.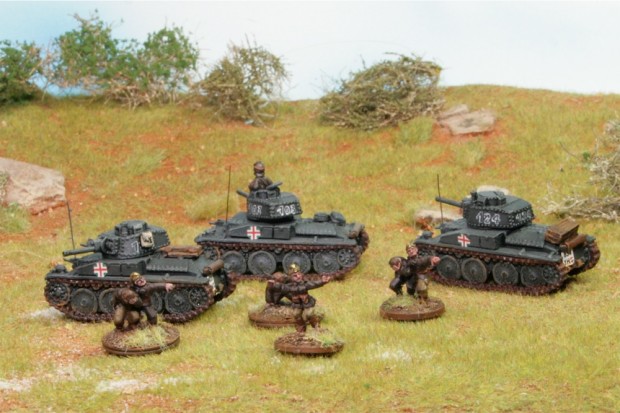 For the bailed out markers I used german tank drivers and one hungarian officer. The hungarian tank drivers wore leather clothes and the characteristic hungarian uniforms. Just painting the models in a different way worked excellent.
Now I am somewhat curious which role these tanks will play in our upcoming campaign. Light tanks as the core of a company will be for sure ver y hard to play but I hope interesting and rewarding.