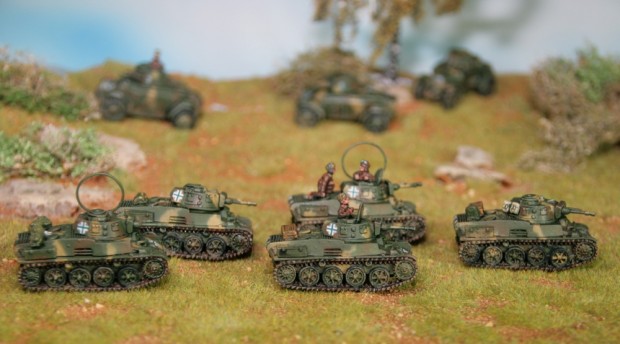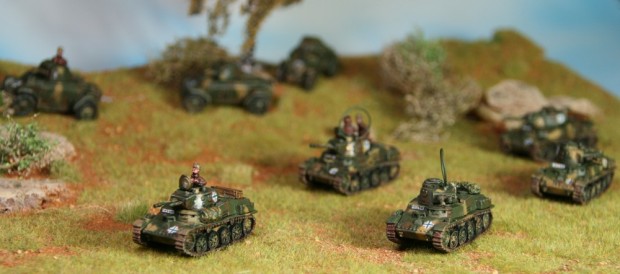 This week I managed to finish the hungarian Recce troops. Some time ago I mentioned the paper masking airbrushing technic I used to spray the camo scheme. I am very happy with the finished troops. The tanks looks somewhat simple, but I would like to mention some special things in order to let you know how much work these tiny armoured vehicles were.
First of all every turret was fixed with rare earth magnets to the chassis. Then I added some commanders and one soldier talking to the platoon leader while standing on the rear of the tank. I added at least one piece of stowage to each vehicle. Then I added two typical round aerials which can be seen on many photos showing the Toldi troops. I used wire in a strength which prevents future damage.
After that I constructed my own Decals. My first attempt with white decal paper was not that precise, so I decided to let them printed out by a service which is able to print white colour, too. To do this we had to provide a pdf with two pages, one with all color information, one with the white information (in black). The Service called Druckeronkel (german page) did an excellent job to reasonable prices. I designed the correct version of the hungarian Balkenkreuz, since I did the same mistake like Battlefront´s author Wayne, who mentioned it in his excellent painting article. Unfortunately I did it wrong with my first batch of hungarian decals.
Now with the correct version I added registration plates, hungarian coat of arms, hungarian armed forces coat of arms, a double cross insignia for the Cabas, an Eagle insignia for the hatches of the Toldis and some other details. My employee, who is in trainig of a graphical job, did the printig version of the insignia. It takes ages to produce a printable version since you need vector construction skills, knowledge on colors in print (although RGB without profiles was needed) and you should be able to save PDFs. I took us three approaches to get the file right for print. So if you consider to produce your own decals don´t blame me that you did not know that that is hard work.
For making the fire and smoke markers I used exactly the technic introduced by Elladan in his excellent Fire and Smoke article. Since I read it some years ago I wanted to test that. Strange but true it took me really a long time to get into a pet shop, a artist´s shop, get red ink, a good yellow paint and magnets for the bases. But now it worked excellent, thank you very much Elladan for sharing your work with us!
The fire and smoke markers will be very important for our upcoming Tactica 2011 gaming table depicting Eastern Front 1943, since many hungarian and sowjet vehicles were destroyed during that time.