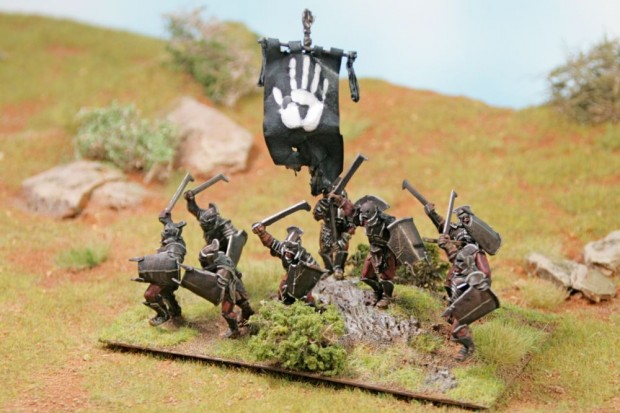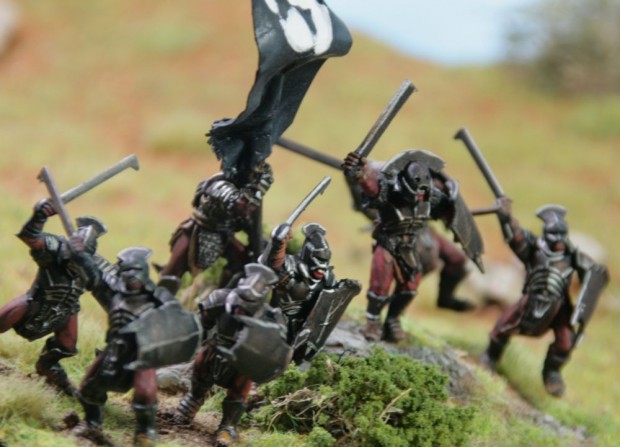 Currently I have a lot of fun to rebase some of my oldest miniatures with War of the Ring sized Multibases. I am sure that my technic will shock some players of WotR since I cannot remove the captain nor the banner bearer. However I don´t care about that. There will be Markers for this. For sure I will be able to put some single based miniatures, Saruman for instance, on the multibase.
Far more important for me is, that I can collect from now on little battle scenes or dioramas. I always intendet to have a collection like this. I will be able to play skirmish in future as well since I own enough LotR miniatures.
With this third Multibase I tried to model a rock or a tiny hill on the base in order to have the great Captain model, which I really like a lot, and the brand new banner bearer on top of that hill. The banner bearer was modified by me since I prefer paper made banners, as they look more realistic. The new model from the new Uruk-hai command is absolutely stunning since the pose looks very dramatic and realistic. The banner bearer walks up to a rock, which I did not use. But it profed perfect to be used on that hill. I painted this one yesterday whereas the other models date back to the year 2003 or 2004.
A very simple conversion was a Uruk-hai killed by an Rohan spear. I simply drilled a hole in it and glued a spear on the model. However this simple conversion made a stunning effect.
On this multibase I tried to have some of the Uruk-hai feet in the air to depict a dynamic state of an attack. These models were sculpted so good, that their look is really great when combined in a diorama.