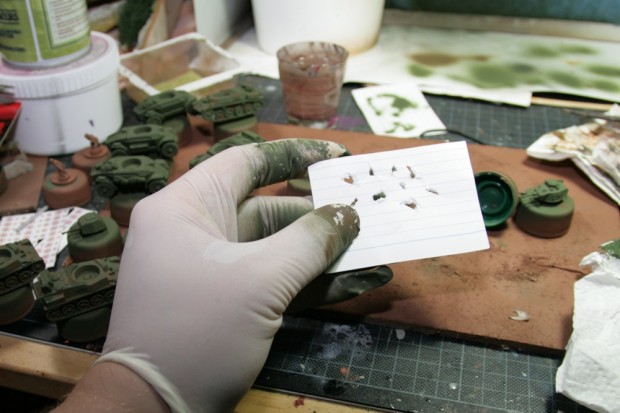 Usually I do not care about WIP posts. Personally I do not like WIPs when they show miniatures besides the painting technic is somewhat special. However I decided to show you my Toldis and Csabas before they are finished, because I managed to airbrush a quite good 3 color camoflage. Frank Bauer and Lemming told me in the german Sweetwater Forums when they saw my Famo trucks, that the scale of the airbrushed camo is not right.
For sure I did understand their professional critisism, but first I had no idea how to achieve the scale. That was for the reason that I assumed to airbrush it with free hands. However on my desk chaos there were some paper register cards I bought for learning vocabularies. However when I saw them it came to my mind that with some holes which have no sharp edges I could mask perfectly the borders of the color edges. You can see this in the following pictures.
So once more a discussion in a forum led to a better painting result. Thanks a lot for challenging me, Frank and Lemming!